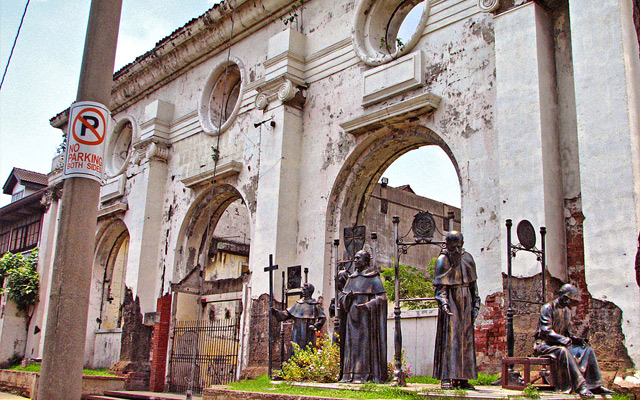 The museum will be officially open to the public starting May 2, 2019. Admission is free.
The Intramuros Administration (IA) on Tuesday opened the doors of the Museo de Intramuros at the San Ignacio Church, housing the country's largest collection of ecclesiastical artifacts.
"This is the only state collection that is ecclesiastic in nature. This is the biggest collection in the Philippines," said Dino Carlos Santos, a Museo de Intramuros docent, during a media tour.
The IA has more than 7,000 art pieces, collected from 1979 to the latter part of 1980s, Santos said, noting this only stopped in the 1990s.
The oldest artifact in the collection is the 17th century sculpture of the Baptism of Christ.
But the oldest on display is the wooden carving of a crucifixion bearing the image of Jesus that resembles the Bulul figure of the Ifugao, cased in glass at the exhibit's "Indio Response" component.
Explaining the resemblance, Santos said the carving dates back to 17th century, a time when Filipinos were starting to convert their beliefs from anito, or their native gods, to evangelization, hence the "Indio Response."
"Dati kasi iba ang ginagawa nila [for the carvings] (Before, they worked on something different), they were largely animists so these anito, Bulul, and indigenous carvings," Santos said.
There are five other components in the collection -- the Immaculate Conception where several old wooden figures of Mother Mary are put in place; the Religious Order; the Patronato Real and the establishment of Parishes; Religious Colonial Paintings; and the establishment of a parish and sacred vessels.
It is curated by Dr. Esperanza Gatbonton, Gino Gonzales, Dr. Cecilia dela Paz, Santiago Pilar, and Martin Tinio.
The IA describes the in-house exhibition as a story of how Filipinos through time view evangelization in the Philippines, exploring the changes in their psyche as colonization introduced a new religion to the natives.
In the book Philippine Religious Imagery, Gatbonton said: "This collection of the Intramuros Administration is extremely valuable because it represents the real attempt to collect and preserve within the Philippines an important aspect of the country's cultural heritage."
During the museum's viewing for dignitaries on April 29, Tourism chief Bernadette Romulo-Puyat vowed to promote cultural tourism in the coming years.
"We're doing it not just because we need to expand our tourism products, engage a specific market and increase revenue. Cultural tourism is telling the world our narrative," she said.
SEE ALSO
IMPORTANT NOTE:
The rates, contact details and other information indicated in this post are accurate from the time of writing but may change without Must Visit Philippines' notice.
Should you know the updated information, please let us know by leaving a message in the comment box below.
MUST VISIT PH IS NOW ON YOUTUBE!
WHERE TO STAY IN MANILA
museo de intramuros schedule museo de intramuros address museo de intramuros opening hours how to go to museo de intramuros museo de intramuros map museo de intramuros hours museo de intramuros blog museo de intramuros contact number
Museo de Intramuros to open on May 2
Reviewed by
Admin
on
Abril 29, 2019
Rating: